The 2020 Rav 4 Hybrid is here and there's never a better time to go hybrid! Hybrid cars can potentially save you gas money and are better for the environment overall, but is it right for you? Well, this question really depends on your driving habit, we will talk more about this later on in this article.

2019 vs 2020: What's new?
The new 2020 Rav 4 Hybrid is basically the same as the 2019 model which can already handle Apple AirPlay, but now comes with Android Auto to connect with your Android phone. Also, The XLE trim and up now comes with power driver's seat as a standard feature.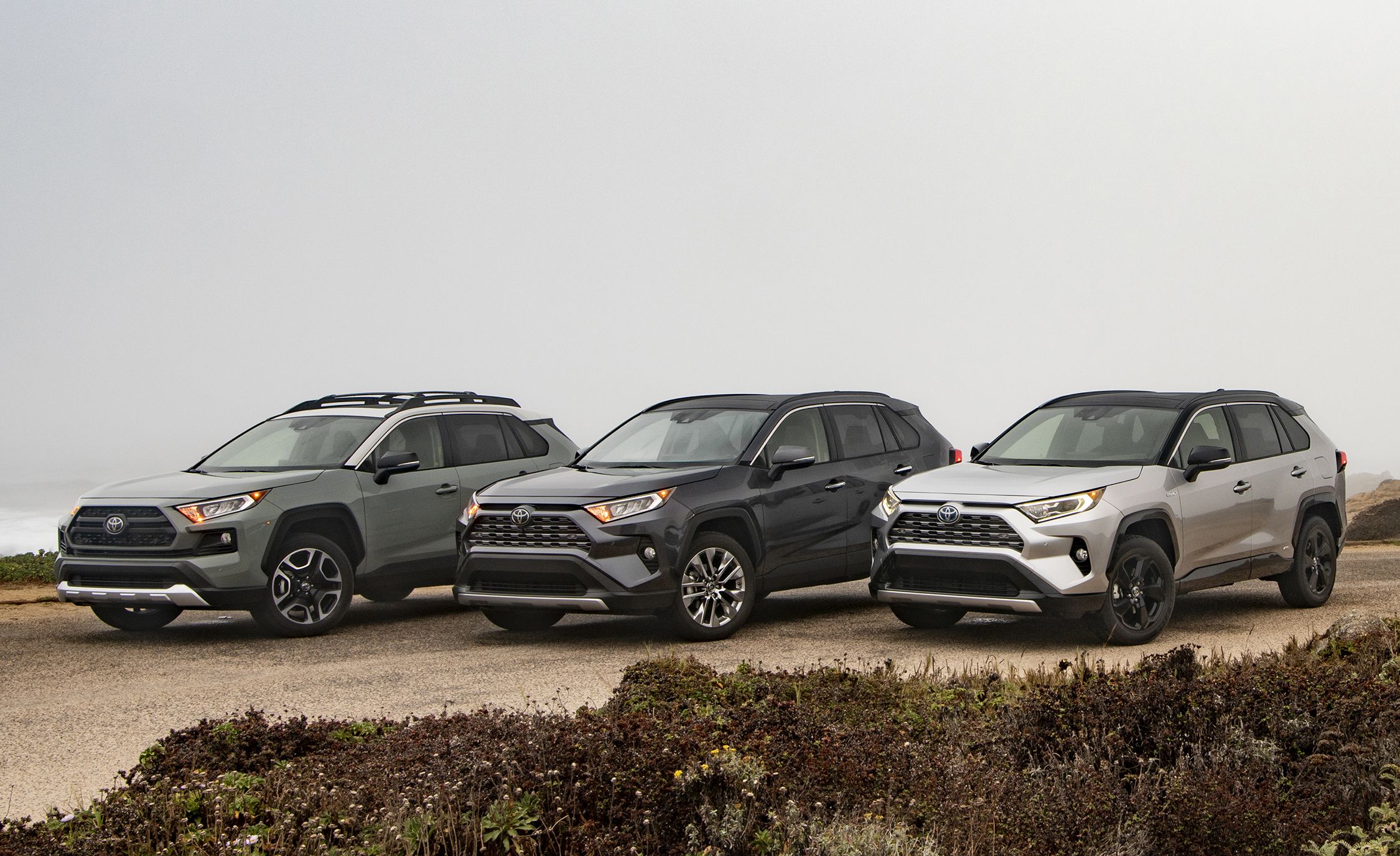 What trims are available and what do they come with?
There are a total of 5 versions to select from and all of them are all-wheel drive (AWD):

LE
2.5 Litre, 4-Cylinder engine with 219 Net HP Toyota Hybrid System with Continuously 
203Kw Horsepower with Electronic All Wheel Drive and Automatic Variable Transmission
7" touch screen for audio and infotainment control
Heated Front Seats
Dual-Zone Automatic Air Conditioning
Toyota Safety Sense 2.0 (See below for more on this safety feature)

XLE
Everything the LE has and:
Rain-detecting wipers with auto-speed control
Power moonroof and power back trunk door
Smart key system with push-to-start (no need to insert key)
Heated leather steering wheel

XSE
Everything the LE and XLE has and:
A bigger 8" touch screen for audio and infotainment control
A bigger 7" color dashboard digital display
Bigger 18" black alloy wheels
Auto-dimming rearview mirror
Mixed SofTex leather seats
SiriusXM Radio and remote car start via Toyota App

XSE with Tech
Everything the LE, XLE, and XSE has and:
11 JBL speakers Audio system
Wireless charging for mobile phones
Intelligent sensors for object detection at the front, back, and corner of the car
Blindspot warning with auto alert and braking  (See below for more on this safety feature)
Embedded Navigation with map updates for 3 years or max of 3 updates
rearview mirror with built-in digital video display (great for when the back window is blocked)

Limited
Everything the LE, XLE, XSE, and XSE with Tech has and:
Bird's eye view monitor (for seeing 360-degree real-time activity around your car)
Heated and cooling front seats
Heated rear seats
Memory settings for driver's seating position
Hands-free power back trunk door with kick sensor

Which trim is the most popular?
There are various benefits to each trim, but the most popular is definitely the XLE. For a difference of $3000, you get the addition of a power moonroof as well as power back trunk door, which is great for when your hands are occupied with groceries. The XLE model comes with keyless push-start which is fantastic; Inserting car keys is so 2013! This model also comes with a leather-wrapped heated steering wheel to increase the premium feel to the car.

Is Hybrid what you really need and will it save me money?
This question entirely depends on how much you intend to drive with the car. If this is only going to be a second car, something that you will use on weekends for grocery shopping, you may not see much gas savings if at all.

On the other hand, if you tend to drive to work daily, say Burnaby to downtown every day and you go out to get groceries or to see friends regularly, then you may find that you will save money on gas.

The reason for this is that for most city driving unless you accelerate quite hard, the car tends to use the electric engine more and therefore hardly using gas. But when you accelerate hard or drive at say…highway speed, then the car would need more power and will use gas to power the full engine to give you the power you need. 
How much more money does it cost compared to the gas model?
The hybrid models are amazingly priced. You can find full pricing details on toyota.ca for the Rav 4 Hybrid. For example, comparing an XLE AWD or even a top-trim Limited model gas vs hybrid, there is only a difference of $1500. So it's extremely enticing to consider the hybrid model especially with consideration of the saving in gas cost.

What safety features does the Rav 4 Hybrid come with?
You may be surprised to hear that with all of the 2019 and 2020 Toyota car models, Safety Sense 2.0 is a standard feature. This is great as it means you no longer need to pay extra money for top-notch safety protection for your vehicle, unlike a number of other brands.
With Safety Sense 2.0, it comes with the following:
Pre-Collison System with daytime/low-light vehicle and pedestrian detection & daytime bicycle detection
Why this matter: 
Did you know that simply by having this feature in your car, You automatically become eligible for up to 10% insurance savings from ICBC. Ask us about it if you want to learn more!

Having a pre-collision system in your vehicle means that during your commute, even if you happen to look away and your car is getting go close to another vehicle or crossing pedestrian, the car will alert you with visual and audio warnings, then if you still don't act, the car will attempt to brake for you. There are some limitations to this system, always refer to Toyota.ca for the full operating instructions and limitations.

Lane departure alert with steering assist and road edge detection
Why this matter: Ever get a bit tired and find your car swerving out of your own lane? Well, Toyota cars can now auto-detect and monitor whether if your car is kept to the middle of your lane during your travel. When you are not, the car will sound off audio and visual alert; it may even give your steering wheel a tiny push to drive back to the middle of your lane.

Dynamic Radar Cruis Control
Why this matter: Not only can your car automatically maintain a preset speed of your chosen, it now can be set so that it tails the traffic ahead of you so that your car will speed up or slow down according to traffic conditions intelligently. But what if the car ahead of me goes super fast you ask? Your car will only speed up to your pre-selected speed so this is not a worry for you.

Automatic High Beam
Why this matter: You don't want to be that guy with the high beam on blinding incoming traffic! This feature will help you to determine if cars are coming your way, it will switch to low beam until the car passes.  The high beam will also come on when you head into super dark areas so that what's in front of you is always visible.  

REMEMBER: these features are meant to assist only, so you still have to pay full attention to the road!

What warranty comes with the car?
Every new Toyota hybrid vehicle comes with the following: 
Basic vehicle warranty – basically covers nearly everything except wear-and-tear for 3 years or 60,000km (whichever comes first)
Powertrain warranty – covering the engine, transmission, front-wheel-drive system, rear-wheel drive, seatbelts, and airbags for 5 years or 100,000km (whichever comes first)
Hybrid component warranty for 8 years or 160,000km (whichever comes first)
And starting with 2020 models of all Toyota Hybrid Electric vehicles:
Hybrid battery warranty for 10 years or 240,000km (whichever comes first)

Can I take a 2019 model and what am I missing out?
By some luck, you may still find some 2019 models being available. If you don't mind taking the car without Android Auto or an XLE
Can I get one today?
The 2020 Rav 4 Hybrid is currently a very popular vehicle and is likely to be sold out across the country at the moment. If you are interested in getting one soon, the best way is to place an order on one soon. You can order one from any Toyota dealership, but if you want to make sure you get it the soonest, it would best to place an order with Destination Toyota which is where I work. We are one of the biggest dealerships in the Lower Mainland and likely to receive more units of the vehicle more often, therefore increasing your chance of picking up your car sooner.

How to get one as soon as possible?
Keep in mind that each day we are exactly more orders of the car, so the sooner you place your order, the higher your name will be on the waiting list!

Just text or call me at 236-986-2266 or through this website; I'll set up an appointment with you to review what exactly you want in the car and take a deposit from you and an order will be placed for the vehicle, it's that easy. 

I hope that you have found this article helpful with your selection. What do you think of the 2020 Rav 4 Hybrid and what do you like about it? I'd love to hear from you, let me know in the comment!